Projects
Modern MLS stadium and soccer park with an indoor-outdoor balance for a great game day experience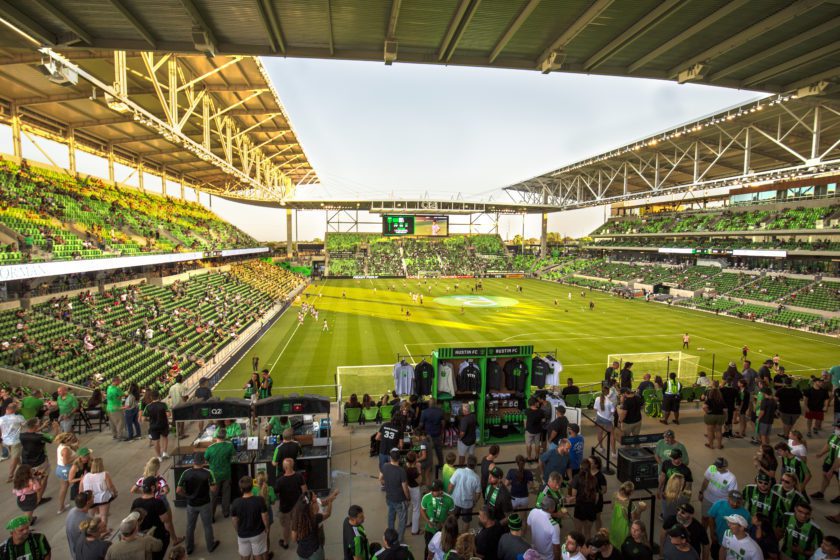 Q2 Stadium
Q2 Stadium, home of the MLS Austin FC, is a celebration of soccer, food, drink, and camaraderie in a stadium built to accommodate 20,500 people.
Our scope included acoustics, audio, data/IT, and video. We paid special attention to technology design for the game-day experience and the stadium's flexible use as a non-traditional event venue. When not used for Austin FC games, it provides another premier location for entertainment, leisure, and outdoor activities.
At the beginning of the project, we established existing background noise levels and modeled the impact of mechanical, crowd, and sound system noise onto the adjacent properties. Our acoustics expertise and input on the roof canopy resulted in the sound created by fervent fans being redirected back into the stadium to create a home-field advantage.
Services
Construction Cost
$200 million
Project Partners
Gensler, Austin Commercial
A full house with incredible supporters accompanied by pretty well engineered stadium acoustics that can naturally amplify the impact of our supporters, who are already in close proximity to the pitch, can ultimately lead to the creation of an intimidating in-stadium atmosphere for our opponents.
Andy Loughnane
President, Austin FC