Projects
Hybrid steel pedestrian bridge features unique cold-formed steel (CFS) design
Spacecon
Colorado Springs, CO, USA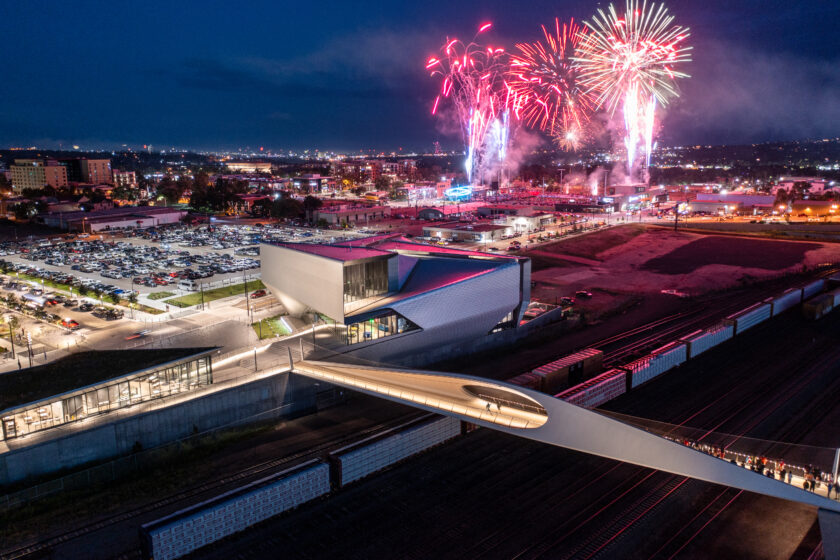 Park Union Bridge Cold-Formed Steel Engineering
Called "the bridge of the future", the Park Union Bridge is a 250-foot-long $20M pedestrian bridge that connects the U.S. Olympic and Paralympic Museum with America the Beautiful Park. Salas O'Brien was tasked with designing the CFS framing that supports the canted wall panels wrapping the inside of the twisting oculus. The CFS framing gradually curves and varies in height on each end, above and below the oculus.
The primary challenge presented by the CFS design was the three-dimensional and rotational movement of the steel structure as it induced thermal, wind, seismic, and live loads. Each element required an allowable tolerance of movement so that the panels could achieve their smooth, flawless appearance. It took careful coordination with the structural engineer of record, the CFS contractor, and the panel manufacturer to secure the final design.
Award
2023 First Place Design Excellence Award, Non-Building Applications, CFSEI
Services
Construction Cost
$20 million
Project Partners
Spacecon, Arup North America, MG McGrath Inc.
Project Photographer
Jason O'Rear Photography